Like any industry, event logistics has its fair share of jargon. One term you might come across if you've ever exhibited at a large event in North America is drayage. This blog explains what it is and why you need to know about it.
What does drayage mean? 
You're probably familiar with dray horses, which were once a familiar sight on the streets. The noble animals delivered barrels of beer, carried on carts known as drays, to pubs in the local area. The word 'dray' comes from the Old English word 'dragen' meaning to draw or haul.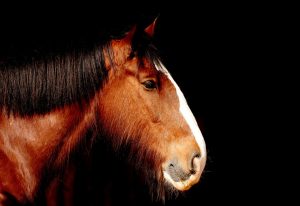 The animals, usually shire horses, were only used to transport the load a short distance from the warehouse, port, canal or railway terminal to the pubs nearby. And so, drayage became the term used for moving goods between the main form of transport and the final delivery point.
In the North American exhibition and events industry, drayage means:
Moving your display and materials from the delivery vehicle or loading bay to your exhibition space.
Removal and storage of packaging during the event and delivering them back for the end of the show.
Moving your materials back to the loading bay or a waiting vehicle for its onward journey.
Drayage represents only a small part of an overall journey. But done badly it can create a disproportionate number of problems and costs.
Who is responsible for drayage at events in the USA?
Some event organisers will arrange for a drayage contractor to be on site. Check your contract and the exhibitors' manual carefully for any information and potential fees.
Please note it is your responsibility to pay local drayage charges in the US.
Drayage fees are usually based on the number of crates and the overall weight of your delivery. The timing of when you want to arrive and leave the event also has an impact. When your consignment arrives significantly earlier or later than agreed there may be a penalty charge, so beware.
If the organiser is providing drayage, there will be guidelines and paperwork in the manual you should read and complete in advance. If you are working with a specialist courier like Bill Bowden Event Logistics, share the materials with them to ensure a smooth handover.
Post-event drayage
At the end of the event, drayage happens in reverse.
In some countries, you need to complete a bill of lading (or B/L or BoL). This is effectively a receipt listing the entire shipment which needs to be submitted to the drayage contractor. It might be checked later by the driver doing the pick-up.
Your crates are then brought to your stand and you, or your dismantling contractor, can begin to pack away your display and materials.
Once everything is packed, the drayage provider will move your materials to the loading bay and will liaise with your event logistics firm to arrange pick up.
Check carefully for any damage before and during this transfer, taking photos if necessary. If any damage does occur during drayage, you should make a claim at the earliest opportunity. Once again, your event manual should include advice on how to do this.
End-to-end event logistics
If you are not compelled to use the organiser's contractor – or if one is not provided – using an end-to-end solution with your event logistics partner could be a safer, easier and more cost-effective option.
Remember, drayage only applies in the US. But events all over the world present exhibitors with the need to transfer materials from the delivery vehicle to the display area.
With Bill Bowden Event Logistics we offer delivery to your stand space for most events as standard.
For very large displays at big exhibitions we offer a range of on-site lifting, handling services, taking a lot of stress out of the process and providing true end-to-end event logistics.
Contact us to find out more.