Do you want a custom-built event display that will attract unparalleled interest, and make your competitors green with envy?
Or maybe a suite of portable, reusable exhibition stands and materials that are unique to you?
Our exhibition stand design and build services will help you stand out for all the right reasons.
In more than 20 years of helping exhibitors set up their displays or building them from scratch, we've developed an excellent understanding of what works – and what doesn't. We've seen new ideas come and go, the introduction of interactive multimedia, and the clever application of tried and tested techniques.
We know the snags that can occur in delivery and set up – and how to overcome them in the design process. Our design and build services benefit from our years of event logistics experience. So you can be sure that any materials we design for you will not only look great, they'll be easy to pack, store and transport.
Our design team are not generalists; they specialise in designing impactful displays for conferences, events and exhibitions. They can work to a brief – and to a budget – or you can let their imaginations run wild.
You might be surprised by what's possible.
And of course, when it comes to setting up the stand, Bill Bowden Event Logistics can deliver and build the stand for you. When you entrust your delivery to the same firm as exhibition stand design and build you can be sure of a seamless service.
It's one less thing for you to worry about.
Not just the big stuff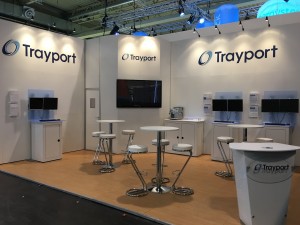 We don't only do the huge stands you see at massive trade shows. We've produced numerous pop up stands over the years since we started. They are durable, reliable and our simplest pop-up stand can be rolled into a small cassette and carried over your shoulder in the bag supplied.
So whether you want the biggest stand at Olympia or a simple presence for your next networking meeting, we can help you stand out from the crowd.
Call us on 0203 475 2700, email info@billbowden.co.uk or complete the form below and we'll get in touch.