Bill Bowden Event Logistics are, again, the recommended courier company and on-site handling agent for this years Get Energy Global.
To ensure that your show materials arrive on time and at the right place contact us. We work exclusively with exhibitions and can provide an excellent and complete service, handling collections from worldwide locations, consolidation at our warehouse and return after the event.

Bill Bowden Event Logistics can provide all exhibitors with the following services:
Worldwide collection service – pick up from your offices anywhere in the world
Deliveries direct to our advance warehouse – send your materials by courier to Bill Bowden Event Logistics to be sure your shipment is received and delivered to your stand at the event
Consolidation of all your materials at our Gatwick warehouse before delivery
Dedicated show manager for one point of contact
Delivery to your stand on Saturday 14th May
Optional set-up of pop-up stands / banner stands – We will set up your stand before you arrive
Meeting with you prior to the close of the event to confirm return arrangement
Optional dismantling of pop-up stands / banner stands
Labelling of materials
Return to our warehouse for your own courier to pick-up or we can arrange return to your location
Onward delivery to another event or location
Round-trip insurance
Contact with Bill Bowden Event Logistics 24/7
Brad will be onsite to assist during the build up and break down of the event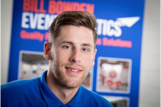 Global pick-up and return
Bill Bowden Event Logistics are able to arrange a pick-up from your location to our consolidation warehouse. Please complete the on-line order form.
Freight Deadlines – the following are an indication only of the deadline pick-up dates. The actual pick-up date would be confirmed on receipt of your order.
Middle East pick-up 26th April 2017
USA pick-up 26th April 2017
EU Pick-up 3rd May 2017
UK Pick-up 5th May 201
Should you wish to deliver direct to our Gatwick warehouse, it will be open for deliveries between 0800-1700 Monday to Friday from 2nd – 5th May 2017.