What were you doing on Christmas Eve?
Completing that last bit of Christmas shopping? Sharing a few drinks and mince pies with colleagues? Or putting in a full day's hard graft before the extended break? (Was it just me or did it seem longer than usual?)
At 5am on 24th December, I was with one of our teams to pick up a display that we had previously delivered to Olympia for the London International Horse Show.
This traditional Christmas event attracts 80,000 visitors over seven days and marks the end of the equestrian season. It brings together world stars from the sports of horse driving, dressage and show jumping and concludes with a memorable spectacular featuring dancers, fireworks, music and decorated horses.
I highly recommend it.
We took the reigns to arrange the delivery, erection and later collection of a display belonging to the event's chosen charity, so their staff could focus on raising awareness and money for a great cause.
Brooke is an international animal welfare charity that employs around 900 staff worldwide, including vets, animal welfare experts and development specialists. Dedicated to improving the lives of more than two million working horses, donkeys and mules they operate in Africa, Asia, Latin America and the Middle East.
It's a great charity doing some critical work.
If you're interested in supporting them check out the Brooke website.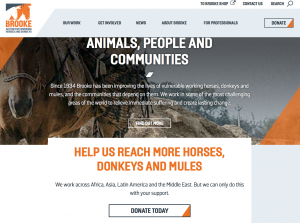 All the best
Bill