The Festival of Quilts Exhibition 
When sending an entry to the Festival from the USA, you should choose a reputable courier company who offers a track and trace facility. This enables both yourself and Bill Bowden Event Logistics to trace your quilt.
When you have your labels, you need to send the quilt to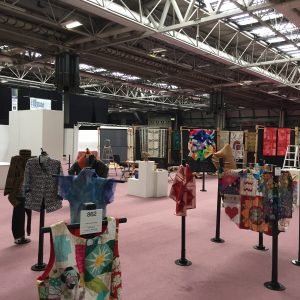 Upper Street Events
c/o Bill Bowden Event Logistics Ltd
Faraday Road
Crawley
West Sussex
RH10 9TX
Tel +44 203 475 2700 / Contact: Debbie Wickson / Bill Bowden
Valuation
We appreciate the effort that has gone into your quilt but we must advise you that UK Customs will apply UK Import Duty & VAT (Value added Tax) when the entry is imported.
Please note that the lower the value of the quilt, the lower the Duty & VAT.
When arranging your courier, there will be a section on the couriers' documentation regarding import duties. You need to tick the box that reads 'Bill Import Duties to Sender' as Bill Bowden Event Logistics will not accept these on your behalf and we will have to refuse receipt of your entry.
Labelling
VERY IMPORTANT Please do not dispatch your quilt unless it is labelled using the entry labels provided.  You should contact the organiser if you have not received these.