These days it seems that all you need to set yourself up as an event courier is a website, a mobile phone and access to a white van.
But while even I wouldn't suggest that event courier services are rocket science, when you entrust your stand, collateral and brand to a third party, you should at least seek reassurance that they know what they're doing. Here are some of the things to look out for.
5 things to look for in a professional event courier
1 Do they have public liability insurance?
Couriering and building event stands and materials are not risk-free activities and while professional event couriers will take every conceivable care, it's important you and your stand visitors have the reassurance that your suppliers are suitably insured.
This doesn't come cheap and you're fly-by-night 'courier' is unlikely to worry about making such an investment.
2 Are they adequately staffed? 
Another way white van man will try to undercut the price of professionals is by taking on the whole job themselves. For small stands, such as simple pop-ups, this might be enough but for other deliveries, it is dangerous for the individual and your materials.
We always assess the consignment and the risks before deciding how many people (and what equipment) are needed to safely and professionally courier your materials.
This is another element you might not be able to prejudge but it's worth asking the question if you call someone about whom you have any doubts.
3 Do they have liveried vehicles? 
If the courier uses a rented or battered old white van to collect or courier your event consignment you might begin to question whether they are specialists in this field. It's not unknown for chancers to borrow someone's Transit for a one-off job.
Of course, you might not know before they turn up to collect your materials. And I have to be honest, on occasion when demand is very high, or we need specialist equipment, we will sometimes hire in extra vehicles to complement our existing fleet. However, a quick check of our website will reveal that we do have our own vehicles proudly boasting our position as event courier and logistics specialists.
I suggest you check the website of any firm before you book.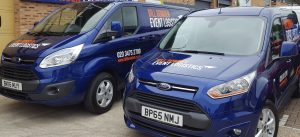 4 Can they describe any relevant experience?
Asking for evidence of similar work done for others is a good idea when talking to a potential new supplier in any area. If they respond "How hard can it be?" you know you're in trouble!
I cannot emphasise too much how important this is for overseas event couriering, even in pre-Brexit Europe. You'd be surprised how much admin and paperwork is involved and believe me this is not part of the process you want someone to 'learn on the job'.
Asking for references, particularly for larger jobs, is always a good idea. Checking Google Reviews and websites for testimonials is useful but nothing beats talking directly to an existing customer.
5 How do they come across over the phone? 
When it comes to people, I'm a great believer in gut instinct. If someone doesn't give me confidence when I talk to them I tend to walk away. If I have any doubts I spread my search further.
I think we're past the point where businesses that only offer a mobile number should immediately be considered 'dodgy', but if you're redirected to voicemail every time you call, a few alarms should start ringing. Certainly, a staffed landline and 24-hour availability should give you an extra layer of confidence in time-critical business such as event courier services.
So there you are, five quick questions to consider when considering using an event courier.
Or to save time call us here at Bill Bowden Event Logistics on 0203 475 2700 or email info@billbowden.co.uk.
All the best
Bill
See also my earlier blog – How to choose between event couriers